"And there you have it folks! A dead body."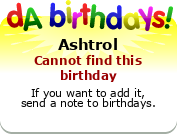 - I've just recently gotten into Steven Universe the past few days and went on a binge for a few days and watched all the episodes. I honestly love Lion and everything mysterious about him. And his design! It's so perfect. Honestly, I haven't loved a show this much in awhile. -





Ask about Commissions!

sta.sh/03dxhpsv3tt



✿ 1/24/15 ✿






Too lazy to do anything productive except make gifts for people. Ugh.



www.youtube.com/watch?v=uyH9TQ…